Blog
Pokémon Scarlet & Violet Reveals Open World with New Starters
Mar 02, 2022
Vyrus Writing Team
Pokémon Day brought us an amazing Pokémon Presents livestream that just made the 2022 Nintendo Switch lineup even better. On top of exciting updates and features to current titles, The Pokémon Company announced the newest chapter of the Pokémon series - which could be our biggest step yet for the pocket monster world. 
Announced with an exciting trailer, two new Pokémon titles are taking fans by storm: Pokémon Scarlet and Pokémon Violet. As of right now, all we know is that these video games are set to launch for the Nintendo Switch in late 2022 (hopefully November). With these new titles, we can look forward to rich culture and more traditional aspects from base Pokémon games we grew up to know and love.
Debuting 9th Generation Pokémon with New Starters 
We HAVE to start out talking about these three adorable new Pokémon: Grass cat Sprigatito, fire croc Fuecoco, and duckling Quaxly have the pleasure of introducing us to 9th generation Pokémon! 
Pokémon fans are scrambling to predict the final evolutions of these Pokémon. There's already an endless supply of rumors and artwork surrounding Pokémon Scarlet and Pokémon Violet news. The suspicion is that the theme of dual typings will continue in these Pokémon video games as well. There's talk that as these cute lil starters evolve, Sprigatito will take on a more feminine grass/fairy typing (please stay on four legs), Fuecoco will harness a fire/fighting typing or possibly dragon considering its reptilian appearance, and Quaxly will emerge as a water/steel typing with its sailor/pirate-inspired look. Older naval sailor hats bear quite a resemblance here; and so does Donald Duck (sorry but it's true). 
As these are all just possibilities, it's still fun to imagine just what the Pokémon creators have in the works for us next. What do you think these Pokémon will evolve into as they accompany you on your journey? 
Exploring a Spain-Inspired Open World Region
Mediterranean feels, a colorful city, sandy beaches - we can't wait to see more of Pokémon Scarlet and Violet's game map! Based on a map shown in the preview trailer, there's evidence to show this game could take place in the real-life Iberian Peninsula in southwestern Europe, a region that includes Spain and Portugal. We also see several references to Spanish architecture throughout. 
The windmills look just like the Spanish-style windmills described in the novel Don Quixote, and the church in the city looks remarkably like Barcelona's Sagrada Familia. Let's also not forget; what appears to be our character's home, which gives players an idea of what the architecture for the new game may be like overall. 
Pokémon Legends: Arceus gave us our first taste of what Pokémon could truly offer us with segmented open-world zones. What makes the world of Scarlet and Violet so different is the fact that you will be able to venture through various towns as they seamlessly blend into the wilderness. Pokémon can be seen anywhere in the wide-open areas, whether it's in the skies, seas, forests, or even in the streets. As Pokémon trainers, we'll finally be able to fully immerse ourselves in the game as we have the ability to explore these lands freely.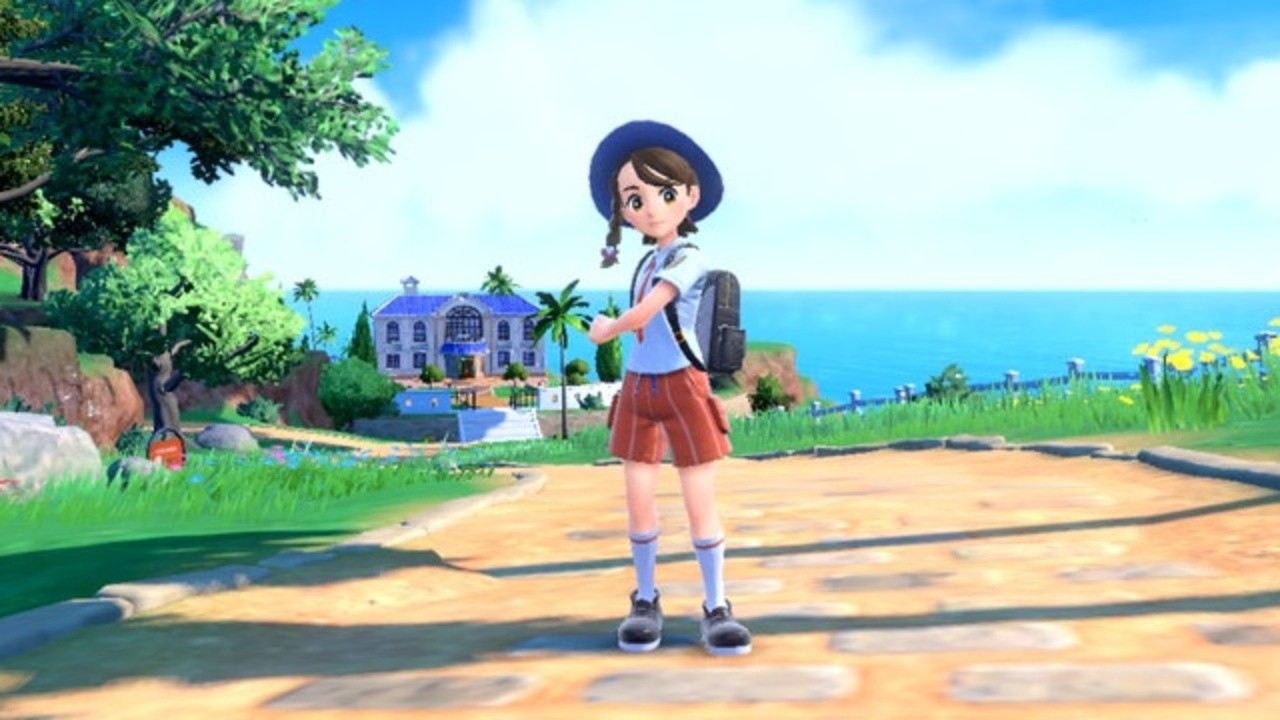 Adventuring with New Trainer Designs
A new region to explore, 9th generation Pokémon to discover, and new trainer designs to enjoy! In fact, your outfit color will also depend on which game you choose between Scarlet and Violet. There's so much this new Pokémon game is giving fans. Although, many fans are actually not favoring the new trainer character designs in this particular title because of their child-like appearance. 
One thing we have to remember is that the game footage from the trailer reveal isn't final. Game Freak will undoubtedly be doing some tune-ups before the big release date, but will they restructure the character design like they did for Sonic before the Sonic The Hedgehog movie released? Probably not. Look at it as a new game with a lovable aesthetic that will give you a unique experience! 
Discovering the Gameplay Mechanics
While information regarding Pokémon Scarlet and Violet is currently limited, it appears the new games will expand on mechanics that have been successful in other recent releases. The Pokémon Company describes on the official Scarlet and Violet website, "You'll be able to experience the true joy of the Pokémon series—battling against wild Pokémon in order to catch them—now in an open-world game that players of any age can enjoy.​" We'll likely see concepts tested in recent games included as the quick shots reminded me a lot of Arceus. But surely players will dive into the narrative of the story at their own pace. 
2022 is proving to be a huge year for the Pokémon franchise! This could be our biggest game-changer yet following the already stunning open-world of Pokémon Legends: Arceus. As a long-time fan, I'm sure I can speak for many of us when I say I'm more than ready to experience the true joy and feel of the Pokémon series in all its glory. Get ready to catch 'em all in Pokémon Scarlet and Pokémon Violet later this year with more reveals to come! 
Which version of Pokémon Scarlet and Violet are you choosing? Let us know in the comments below what path you're taking and the starter Pokémon you'll take with you on this exciting journey!
❤️💜